Digital Lens for Better Picture Quality in VR/AR Displays
Having to achieve high resolution, wide field of view, and large eye-box, the VR/AR head-mounted display makers face the challenges impossible to overcome by hardware design alone. Even the latest and greatest head-mounted displays retain the common flaws spoiling user experience: blur and color fringing outside of the small "sweet spot," picture quality degradation and geometry distortion at wide gaze angles, and a tiny eye box.
To achieve realistic picture quality, optical fidelity, and natural visual experience, it becomes necessary to use advanced image pre-processing techniques beyond the standard geometry warp and channel scaling.
Almalence Digital Lens is a computational solution allowing to correct optical aberrations and distortions in head-mounted displays by utilizing a precise characterization of HMD optical properties along with a patented dynamic aberrations correction algorithm, adjusting on-the-fly to the eye-tracking data.
hpreverbg2asis.jpg,hpreverbg2dlvr.jpg
A one-minute demo with HP Reverb G2 Omnicept: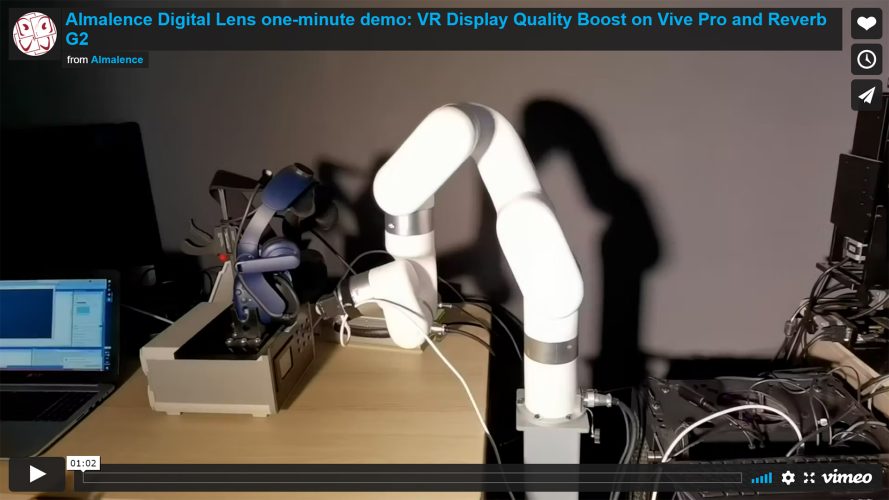 DLVR OpenXR Plugin - VR Headsets Support FAQ
Since the day we released the Digital Lens OpenXR Plugin, we've been getting multiple questions about supporting various headsets. The FAQ below provides a summary on what is not supported and why. Introduction The Digital Lens technology can be applied to VR devices that have: Does the above sound like every modern VR headset? Well, […]
Pico, Vive, and HP headsets get picture quality boost with Almalence DLVR OpenXR Layer
The free plugin doubles the visible resolution, removes chromatic aberrations, and enlarges the eye box – for any OpenXR-compatible content
XR Picture Quality Beyond Optical Hardware Limits
A computational solution to achieve image quality beyond the limits of physically constrained display and optical hardware. Almalence at AWE 23.
End of May was HOT for AR|VR Industry: Join us at Four Major Tradeshows
Update: watch Almalence's talk. Our team took part in Augmented World Expo USA, Display Week, Embedded Vision Summit, and VCX Seminar at Computex Taipei with the latest demos and presentations. (Check full post for more details.)
Almalence Digital Lens Improves VR Image Quality Even on Limited Resolution Displays
Even for a combination of a low-resolution projector and high-performance optics, the dynamic aberration correction technique can improve visual image quality. On the contrary, sharpening techniques result in artifacts and visually corrupted picture.