Digital Lens for Better Picture Quality in VR/AR Displays
Having to achieve high resolution, wide field of view, and large eye-box, the VR/AR head-mounted display makers face the challenges impossible to overcome by hardware design alone. Even the latest and greatest head-mounted displays retain the common flaws spoiling user experience: blur and color fringing outside of the small "sweet spot," picture quality degradation and geometry distortion at wide gaze angles, and a tiny eye box.
To achieve realistic picture quality, optical fidelity, and natural visual experience, it becomes necessary to use advanced image pre-processing techniques beyond the standard geometry warp and channel scaling.
Almalence Digital Lens is a computational solution allowing to correct optical aberrations and distortions in head-mounted displays by utilizing a precise characterization of HMD optical properties along with a patented dynamic aberrations correction algorithm, adjusting on-the-fly to the eye-tracking data.
hpreverbg2asis.png,hpreverbg2dlvr.png
A one-minute demo with HP Reverb G2 Omnicept: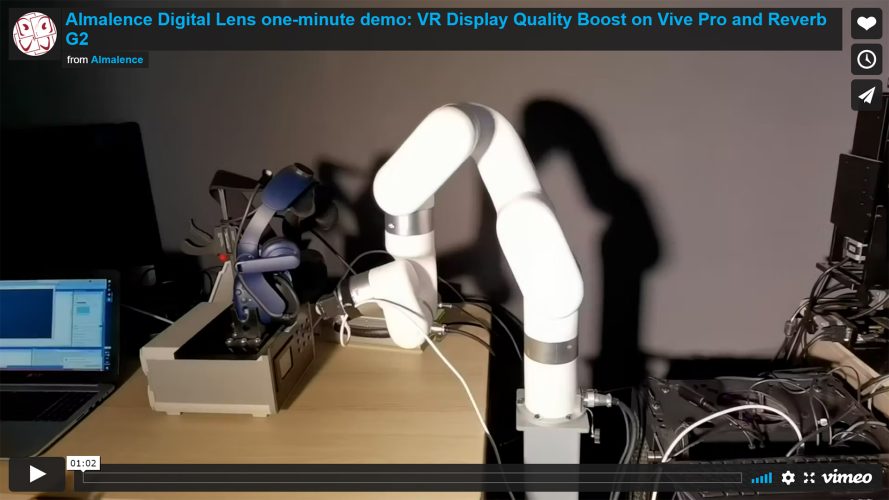 Augmented World Expo USA 2022
Meet us (it's time to go spatial – so, in person!) at AWE USA on June 1-3, 2022. See our newest demos on some latest and greatest VR devices and hear a speech by Almalence CEO covering the latest advances in computational methods for achieving picture quality beyond the optical design limitations in head-mounted displays. […]
Almalence, a winner of SID Display Week 2021 Innovation Award, comes to Display Week 2022 with its Digital Lens technology demo on HP Reverb G2, and Pico 3 Neo Pro, some latest and greatest, highest-resolution VR displays. Contact us to book a meeting!
Next Generation of Human Eye Simulator Prevents Eye Tracker Failures
Almalence introduces the next generation of its Human Eye Simulator, now making the simulator look exactly like a human eye by completely eliminating the unwanted pupil reflections in the IR specter. A closer look at the evolution of how Almalence Human Eye Simulator looked like to the eye trackers in IR specter: First generation: In […]
Near-eye Display Optic Deficiencies and Ways to Overcome Them
Achieving high picture quality, optical fidelity, and natural visual experience is a challenge in near-eye display design. Learn: Why the conventional approaches do not work for near-eye display optical design; What specific methods exist, and why they are still fundamentally limited; How the computational optical correction techniques allow overcoming those limits. Read a comprehensive article […]
"Render it Real. Computational imaging to enable a breakthrough in achieving better visual experience in VR displays". CEO Almalence is giving a speech at AWE Asia 2021 (Sep 27-28).