Digital Lens for Better Picture Quality in VR/AR Displays
Having to achieve high resolution, wide field of view, and large eye-box, the VR/AR head-mounted display makers face the challenges impossible to overcome by hardware design alone. Even the latest and greatest head-mounted displays retain the common flaws spoiling user experience: blur and color fringing outside of the small "sweet spot," picture quality degradation and geometry distortion at wide gaze angles, and a tiny eye box.
To achieve realistic picture quality, optical fidelity, and natural visual experience, it becomes necessary to use advanced image pre-processing techniques beyond the standard geometry warp and channel scaling.
Almalence Digital Lens is a computational solution allowing to correct optical aberrations and distortions in head-mounted displays by utilizing a precise characterization of HMD optical properties along with a patented dynamic aberrations correction algorithm, adjusting on-the-fly to the eye-tracking data.
hpreverbg2asis.png,hpreverbg2dlvr.png
A one-minute demo with HP Reverb G2 Omnicept: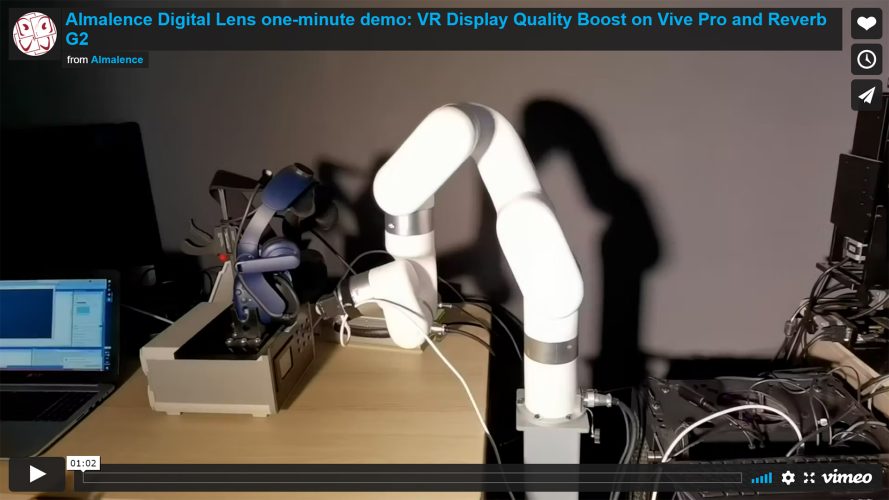 End of May is HOT for AR|VR Industry: Join us at Four Major Tradeshows
Our team will be participating in Augmented World Expo USA, Display Week, Embedded Vision Summit, and VCX Seminar at Computex Taipei with the latest demos and presentations. See you there! (Check full post for more details.)
Almalence Digital Lens Improves VR Image Quality Even on Limited Resolution Displays
Even for a combination of a low-resolution projector and high-performance optics, the dynamic aberration correction technique can improve visual image quality. On the contrary, sharpening techniques result in artifacts and visually corrupted picture.
Meet us at SPIE AR|VR|MR and BIOS
Meet us at SPIE Photonics West, AR|VR|MR and BIOS sections on Jan 28 – Feb 1 in San Francisco. In the AR|VR|MR section, we are showing our latest advancements in achieving high image quality in near-eye displays. Check our booth #213. We are also showing our breakthrough technology enhancing the resolution of chip-on-tip endoscopy cameras […]
Digital Lens makes Varjo's human-eye resolution visible to humans
The virtual corrective optical system compensates for the deficiencies in optical performance and ensures the high resolution image is not corrupted while being transferred through the lens.
Eliminating Pupil Swim Effect in AR/VR Displays
The geometry-deforming effect inherent to head-mounted display optics is removed using advanced computational imaging along with custom optical profiling tools.